By Stever Parker
Huntington Post
Since every automotive enthusiast publication, website, and magazine runs some sort of "Best of" list every year, we're listing those we think are Detroit's "Most Significant" for 2008 and 2009, and some early available news on 2010 models. After reading this post, we'd really like to know where you think we're right - or wrong - and tell us what cars should be on this list, and why. They are listed in no specific order.
CADILLAC SRX
On-sale in mid-2009 as a 2010 model.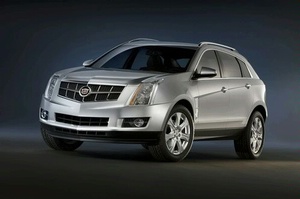 This "Caddy station wagon for the 21st century" will likely use a traditional gasoline powertrain, probably a version of GM's "High Feature" 3.6-liter V6 engine with a six-speed automatic transmission. A gas/electric hybrid version could be added to the SRX roster in late 2010, and the main reason we picked it for our "Most Significant" list. No new SRX pricing as yet; 2009 CTS base prices range from $33,500 to $36,000.
FORD FUSION HYBRID/MERCURY MILAN HYBRID
On-sale mid-2009 as a 2010 model.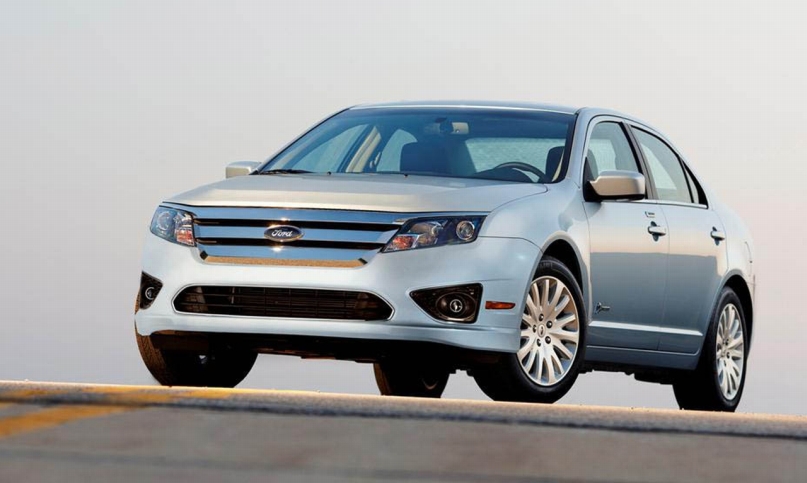 Ford's all-new 2010 Fusion hybrid has been certified by the EPA at 41 mpg/city and 36 mpg/highway, with a combined rating of 39 miles per gallon. That beats the hybrid versions of Camry, Malibu and Altima. Based on the competition's '09 ratings for combined city and highway driving, the new Fusion hybrid beats every widely sold vehicle in America except the Toyota Prius hybrid (46 mpg combined) and the smaller Honda Civic hybrid (42 mpg combined). Pricing will start around $27,000.
PONTIAC G8 GT
On-sale now.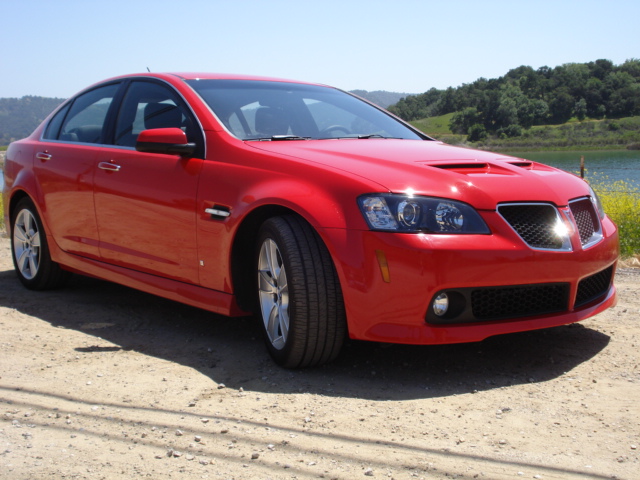 The G8 is almost certainly the last big family-sized rear-wheel drive sedan from the Pontiac division. Sometime soon, Pontiac will become a niche brand with just one or two models (sold at dealers selling several GM makes). G8's three engine offerings, a 256-hp 3.6-liter V6, a Corvette-derived 361-hp 6.0-liter V8, plus a new GXP package with a 402-hp 6.2-liter V8 and a 6-speed automatic are not high-mileage units. It's built in Australia by GM's Holden division. Base prices from $28K to $31,500.
FORD FLEX
On-sale now.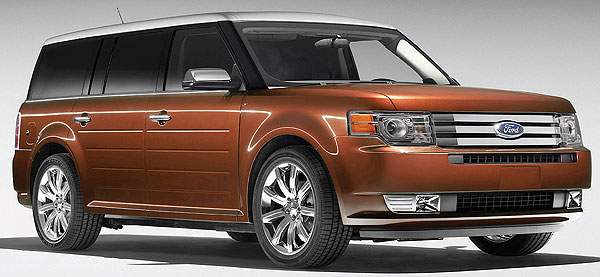 Like the Pontiac G8, Flex probably looked great - on paper - about four years ago, when planning for future production models really begins. Flex's one engine choice is its biggest drawback: a thirsty 262-hp 3.5-liter V6 mated to a 6-speed automatic (16mpg in-town, 22 highway). All-wheel drive is available. Flex would have been a great car - in 2002. Base prices start between $28,000 and $36,000 for 2009 models.
CHEVROLET MALIBU HYBRID
On-sale now.
Malibu's "single-mode" hybrid, with a 2.4-liter 4-cylinder gas engine mated with an electric motor, produces 164-horses and mpg figures of 26 in-town and 34 on the highway. New for 2010 (on-sale late 2009) is rumored to be a Malibu "two-mode" hybrid. That model would use a gasoline 3.6-liter V6 + an electric motor to make 255-hp. Both hybrid systems stop the gas engine at red lights, and the two-mode allows the vehicle to run at low speeds on electric power only. Malibu hybrid prices start at $26K; 2010 pricing hasn't been announced.
CHRYSLER TOWN AND COUNTRY/DODGE GRAND CARAVAN
On-sale now.
When Lee Iacocca was fired from Ford and went to lead Chrysler, he took with him Ford engineer Hal Sperlich, who brought with him a van project that became the first US minivan in 1983. Town & Country and Dodge Grand Caravan still dominate the minivan market, and offer a 3.3-liter V6, a 3.8-liter V6 and a 4.0-liter V6. Some models still have stone age four-speed automatics; others a modern six-speed. 2009 base-prices go from $24,230 to $36,550.
2010 LINCOLN MKZ
On-sale Spring, 2009
Lincoln's 2010 MKZ gets somewhat-new looks inside and outside. MKZ comes with one drivetrain choice: a 263-hp 3.5-liter V6 Duratec engine with a six-speed automatic transmission (similar to Ford's Flex wagon drivetrain). MKZ offers a choice of front- or all-wheel drive. MKZ is easy to spec out, with options kept to an enjoyable minimum. 2010 MKZ is built in Hermosillo, Mexico. 2009 models are base-priced between $32,695 and to $34,585.
2010 CHEVROLET CAMARO
On-sale first quarter 2009 as a 2010 model.
A two-door coupe will add a convertible version in late '09 (Camaro in photo is a convertible prototype). A base 3.6-liter V6 engine produces 300 horsepower. Automatic-equipped SS models get a 6.2-liter V8 making 400 horses and has Active Fuel Management cylinder deactivation (which most owners will switch "off"). SS versions with a manual transmission get a monster 422-horse 6.2-liter V8. Mileage figures and official pricing haven't been announced. Can't wait to see those mileage figures ... and, I'd wager, neither can Congress.
2009 PONTIAC VIBE
On-sale now.
Vibe is built on the same Fremont, California assembly line as its near-twin, Toyota's Matrix. GM shares the factory with Toyota, and New United Motor Manufacturing Inc. (NUMMI) was the first joint venture between GM and an import carmaker. The 2009 Vibe is redesigned inside and out and has more power and other new features, including the return of all-wheel drive, a definite plus. Two engines are offered, a 1.8-liter 132-horsepower four, and a 158-hp 2.4-liter four-cylinder. Mileage ranges from 20 mpg in-town to 26 highway, depending on the model. Base prices range from $16,100 to $20,875.
JEEP WRANGLER
On-sale now.
Jazz is the quintessential American music, and Jeep's Wrangler is the quintessence of American cars. Jeep's logo ties at #1 as most-recognized product symbol worldwide along with Coca-Cola's, and Wrangler and Corvette remain America's most authentic cars. All models have a 3.8-liter V6 engine, making between 202- and 205-horsepower, depending on model. Manual or automatic transmissions are available. "There's nothing like the real thing." Base prices range from $20,460 to $31,840.
Some photos by www.SteveParker.com.