Lester Sloan
Huffington Post
Last week, 750 Detroiters turned out at the city's signature museum, the
Detroit Institute of Arts
(DIA) to bear witness and raise cash for the 124-year-old institution, and honor philanthropist
A. Alfred Taubman
. It was a harmonious blending of blue bloods and blue collars coming together among the many treasures housed there. The DIA is the fifth largest museum in America, and has one of the largest and most significant art collections in the United States.
The
Richard Avedon exhibition
was an eye-popping collection of colorful, mostly black and white images produced over the 50-year career of the world's greatest fashion photographer. For fashion buffs and lovers of photography alike, it is a walk down memory lane, for both the models and the themes are familiar to many of those who came out for the event. The iconic image of the show is that of Donyale Luna, an African-American woman from Detroit. Avedon was both an innovative artist and social commentator, and with Luna, he helped to break the color line in fashion. One of his earliest books and social statements was in collaboration with a high school friend, James Baldwin, entitled "Nothing Personal."
For my money, however, one of the best events at the DIA takes place every Friday night in Prentis Court, one level down from the Diego Rivera's "Detroit Industry" frescos. There one can witness not images from the past, but an event that speaks to the future of Detroit: dozens of children, mostly African-American, hovering over chess boards, young minds being shaped for greatness. The DIA provides a place for those interested in honing their chess skills with a place to go, but then, after all, it's their museum too.
The idea of teaching chess to these young minds is the brainchild of Kevin Fite, a math teacher at the city's Washington Parks Academy. He started the Detroit City Chess Club in 2003. When one of his students moved on to high school and asked "where are we going to play chess now, Mr. Fite?" he went looking for a spot. He landed at Skillman Library, the downtown branch of the Detroit Public Library where he and his students felt right at home. "They even let my kids bring lunch into the library," he recalls with a smile. "They hosted trophy ceremonies, ordered books on chess and made them available to the youngsters."
When construction of the CompuWare headquarters in downtown Detroit resulted in the temporary closing of the Skillman library, the DIA made the Prentis Court facility available to Fite and his growing roster of emerging chess masters.
Since its inception, the Detroit City Chess Club has produced National, State and City champions, competing in matches in Sacramento, Denver, Nashville, Louisville, Chicago, Windsor and Montreal. Besides learning the strategies of the game, these youngsters are also learning life skills: "Chess is life," says 17-year-old Kayeen Ellis-Kemp, "you have to think before you act." He was taught to play the game by an uncle before coming under the tutelage of Fite.
A self-avowed gifted basketball player, Ellis-Kemp is also the 2006 and 2007 National chess champ. He aspires to be more like Maurice Ashley, the first black grand master, than Kobe Bryant, though he credits chess with improving his court gamesmanship. He also credits chess with bringing up his grades, raising his average from 2.0 to 3.6. "You can get a scholarship for chess," he offers. "Not many people know that."
At a recent gathering at the DIA, Ellis-Kemp received as many high 5's for his report card (5 A's and 1 C) as he did for his chess skills. He quickly explains that the lower grade was the result of a late enrollment in one of his classes, and would soon be replaced by an A. College is in his future, and he hopes to get a degree in sports management. "It's not what you say, but what you do," he says, spinning a Fite maxim.
Eleven-year-old Sidnei Austin has only been playing for three years and already she's 24th in the nation; she was rated 6th in the State in 2008. She says chess has helped her in math and in general. She has always been an A and B student, with a few slips now and then, but as she puts it, her grades "stay strong." Chess has improved her concentration and she agrees with Ellis-Kemp that it's a lot like life: "You have your difficulties that you have to go through; you overcome them and then you win or loose. That's life."
At this gathering, Fite's matches with the kids are often interrupted by his cell phone: concerned parents checking on the whereabouts of a child. "He's here," or "she can't come to the phone right now, she's playing." But on any given Friday, there are more parents in the courtyard than on the phone.
Tim Woods, a doting father watches his 5-year-old son Cameron play a game against himself. He tries to bring him down every other week.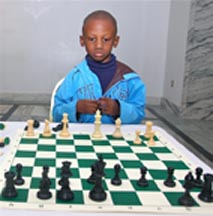 "He's constantly asking me: 'when are we going to the DIA?'"
"Can you beat him?" I inquire, pointing to his budding chess master.
"Just for a minute" is his response, "but give him a year or two and he'll be teaching me."
His 11-year-old son, Austin, is involved in a game nearby.
Woods is conscious of the impact that the young chess players has had on others:
"Every non-African-American that walks by seems so shocked, smiling and taking pictures. Kevin Fite has done a wonderful job of bringing this club along. All I can do is clap my hands for him."
The proud dad can't say enough about Kevin Fite: "He's doing a wonderful job with these kids. Visitors to the museum walk through this court and can't believe their eyes."
Many of them, myself included, hover between the tables taking pictures.
In conjunction with a renovation plan that ended two years ago, Director Graham Beal has found ways to make the museum experience more meaningful to gallery visitors of all ages. Among the highlights are new interactive elements like video projections, and an installation that allows visitors to put themselves into paintings. "Please touch" labels encourage youngsters to tactically explore items in the museum. There are special audio tours for children, as well as galleries that group objects of art by theme instead of by date.
From my observations, the Detroit City Chess Club's presence at the DIA goes a long way toward increasing the frequency of visits by a segment of the community that may not have been there before. Perhaps one unintended consequence is that when the kids are not playing chess, they are sometimes off with their parents exploring the museum. This is a plus in a city that is dogged in the media for being at war with itself. How appropriate that within the walls of the DIA, the rebirth of our city is taking place.
Karen Nettles is a single parent with a chess and tennis phenom in tow. Her nine-year-old son Jibril already has his sights set on, first, a career in tennis, followed by a career in medicine. He plans to go to Yale University, following in the footsteps of a chess pro who won a scholarship because of his prowess in the game. Jabril is well aware of the difficulties that lie ahead, but the straight-A student, who loves to read biographies because they deal with real people who overcame real challenges, has his eyes on the prize and is willing to work hard to reach his goals.
One of the greatest wonders is to witness what develops when mind and spirit come together in the emerging personality of a young child. The great Greek historian and classicist Edith Hamilton says it best: "...both belong to the part of us which in Platonic phraseology, draws us up from that which is ever dragging down, or in the figure which Plato is fondest of, that which gives form to the formless."
While we pay tribute with our hearts and cameras to Fite and his students, we the citizens of Detroit should take a moment to applaud ourselves. And visiting journalists should take note that these moments of renewal occur every day at the Charles Wright, The Detroit Historical, and The Museum of Science amidst the rubble that can obstruct clear vision. These institutions are a source of our pride.