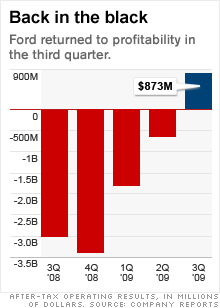 Chris Isidore
CNN Money
The only U.S. automaker to avoid bankruptcy posts an unexpected profit thanks to a big lift from Cash for Clunkers sales.
Ford Motor reported a surprise profit for the third quarter Monday, helped by a bump in sales from the Cash for Clunkers program, a reduced cost structure and problems at its U.S. rivals.
The only major U.S. automaker not to file for bankruptcy this year earned $997 million, or 29 cents a share, compared to a loss of $161 million, or 7 cents a share on that basis a year earlier.
Excluding special items, Ford reported a profit of $873 million, or 26 cents a share, in the period. Analysts had been forecasting a loss of 12 cents a share for the quarter on this basis. Ford said it was the first pre-tax operating profit since the start of 2008.
The company said cost cutting during the past year and an improved outlook for sales leads it to believe Ford will be "solidly profitable" in 2011, excluding special items.
That's the most bullish outlook Ford has offered investors since it started losing money in 2005. The company had previously said it was looking for break-even or better results that year.
Turning the corner. The guidance raised hopes that the company may have turned the corner on nearly five years of losses for its key North American auto operations.
"Our third quarter results clearly show that Ford is making tremendous progress despite the prolonged slump in the global economy," said Ford President and CEO Alan Mulally in a statement.
The company said it lowered its structural costs by $1 billion compared to a year earlier, with about half of that improvement coming in North America.
Mulally told investors that the company remains hopeful it could be profitable in 2010, not just by 2011, and that the longer time frame in the new guidance is a way of being cautious.
"The reason we couched it that way is we're just not sure about the strength of the recovery," he said. Mulally said Ford will detail further guidance on 2010 profits when it reports fourth-quarter results in January.
Digesting the details. Results in North America were helped by much stronger sales than a year earlier, particularly in the United States, where the company was one of the prime beneficiaries of the Cash for Clunkers program that gave buyers up to $4,500 if they traded in a gas guzzler for a more fuel efficient vehicle.
Even without the Cash for Clunkers program, which lifted the whole industry out of the doldrums, Ford made gains on many of its rivals during the quarter.
During the quarter, Ford's U.S. market share rose by 2.2 percentage points to 14.6%. Ford benefited from steep market share declines at GM and Chrysler in the wake of their bankruptcies, but it also posted bigger market share gains than Japanese rivals such as Toyota Motor (TM) and Honda Motor (HMC).
Shares of Ford (F, Fortune 500) rose about 8% in mid-morning trading Monday following the report.
The company reported overall revenue of $30.9 billion in the quarter, down $800 million from the same period a year ago due to a decrease in revenue at its Ford Credit unit.
Ford said that global auto sales rose $100 million from the third quarter of 2008, to $27.9 billion. It sold 1.23 million vehicles worldwide, up 5% from a year earlier, and its average net pricing also improved along with its sales volume. Auto revenue in North America soared by $2.9 billion, or 27%, to $13.7 billion.
Ford (F, Fortune 500) also said it made money on its auto operations, and that it reported positive cash flow of $1.3 billion from its auto businesses. The company had been burning through significant amounts of cash every quarter since the second quarter of 2007 as it suffered from years of ongoing losses.
"While we still face a challenging road ahead, our [company] transformation plan is working and our underlying business continues to grow stronger," Mulally added.
Ford's automotive unit earned $446 million in the quarter, compared to a loss of $2.9 billion in the year-earlier period, as the company's core auto operations in North America returned to profitability for the first time since the first half of 2005.