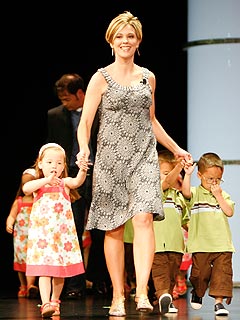 Metro Parent Magazine and Henry Ford Health System are proud to present two special events, "Tea With Kate" and "Moms' Night Out with Kate" on Thursday, May 14, 2009.
Kate Gosselin, the star of a top-rated cable show and author of the best-selling book Multiple Blessings, shares her story of the challenges that come with raising 8-year-old twins and a set of sextuplets.
The Gosselins' life is a whirlwind, with the book and show reflecting the fast-paced, no nonsense approach they take to raising their twins and their miracle sextuplets. Her message: If she can balance the demands of parenting, so can all parents. Kate's second book, Eight Little Faces, was released in April 2009, and her family cookbook, Love Is in the Mix: Making Meals into Memories, is due to be released in October 2009.
"Tea with Kate Gosselin" is an intimate meet and greet with Kate and a small group of special fans. This event will be held at the new Henry Ford West Bloomfield Hospital (6777 West Maple Road) at 3 p.m. Tickets cost $150, and include your choice of one of her best-selling books plus an opportunity to get it signed by Kate.
"Moms' Night Out with Kate Gosselin" will give Metro Detroiters an opportunity to hear how Kate copes with her big brood. She'll share her "Six Lessons Learned" and "Tips for a Stress Free Home."
This evening event at Faith Lutheran Church in Troy (37635 Dequindre Road) begins at 7:30 p.m. Tickets are $38 for general admission gold seating (includes book signing opportunity) and $27 for general admission silver seating. It's the perfect Mother's Day present for Metro Detroit moms, letting them know that no matter how tough and demanding parenting can be sometimes, they can find the right balance to ensure a happy home.
The event is presented by Metro Parent Magazine and Henry Ford Health System. It is sponsored by The Henry Ford museum and 96.3 WDVD-FM.
To purchase tickets or for additional information, visit MetroParentEvents.com or call 248-398-3400, ext. 128.