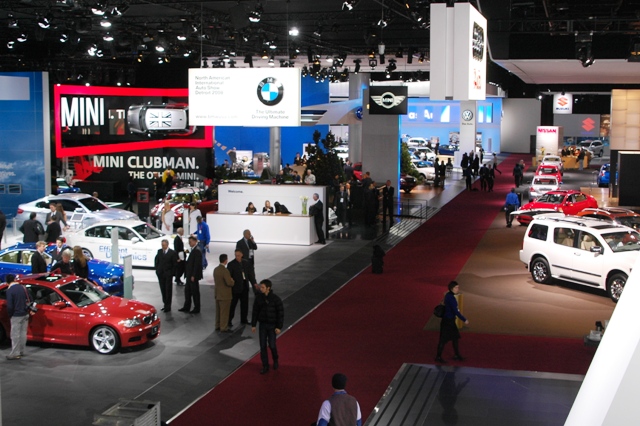 Joe Serra, cochair of the 2009 North American International Auto Show, drew applause Thursday simply by reassuring hundreds who attended a preview event that there will be an auto show.
"To begin my discussion about the 2009 North American International Auto Show, let me start by saying, there will be one," Serra told an audience of about 450 at Cobo Center in Detroit, who had come to see the North American Car and Truck of the Year finalists revealed.
Serra said show organizers were knocked off balance this year by the corporate departure of Nissan Motor Co. and six other manufacturers.
Still, Serra said this year's auto show will feature 58 global and North American vehicle unveilings, which is more than last year, and said the number of journalist registrations is on pace to match the annual mark of about 6,000.
Serra also said that 49 manufacturers -- including the late-Thursday addition of Tesla Motors Inc., a Silicon Valley start-up -- will be represented.
Two manufacturers, Nissan Motor Co. and Mitsubishi Motors Corp., will have scaled-down displays staffed by local dealers but no corporate presence.
Tesla spokeswoman Rachel Konrad said this will be the first time Tesla has had floor space at Detroit's auto show.
"Detroit is one of the most important events in this industry, so we really look forward to being there," Konrad said.
Other new or recent additions to the 2009 auto show are Bugatti, Brilliance Auto, Lotus Cars USA, Morgan Motor Co., Revenge Designs and Aston Martin.
"So then, what can you expect to see at the 2009 show? The key word is efficiency in both cars and displays," Serra said. "We will still be a global stage to the world, but perhaps with a little bit less glitz and glamour."
Serra, owner of 21 auto dealerships, said he is frustrated by the lack of action by the federal government to rescue the automotive industry.
"I was disheartened by the lack of trust and distaste for the auto industry," he said.
Serra said about 700 automotive dealerships have gone out of business this year.
Next year, he expects about 900 also will close. One of the main problems dealers face is a 30% to 40% drop in revenue caused by a drop in sales, a consequence of low consumer confidence and the inability of customers to obtain credit.
Next year, Serra predicts that about 12 million vehicles will be sold in the United States, a decline of about 25% from 2007.
"As positive and optimistic as I personally am about this industry, I am a realist, and nobody denies that these are dire times," Serra said.