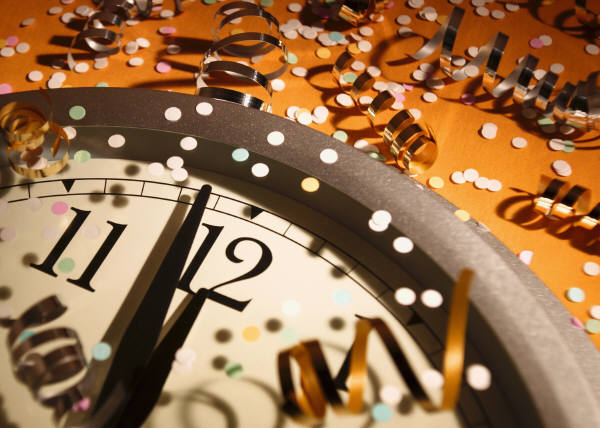 By STEPHANIE ANGELYN CASOLA
It's less than a week away before the clink of champagne glasses toast in 2009. Have you made your plans yet? Whether you're a snuggle-by-the-fire sort or you plan to paint the town red at any expense.
FOR POCKET CHANGE
New Year's Eve can be just as enjoyable spent at home among friends or loved ones as it can with elaborate dinners or dancing. Try one of these non-plans and cozy up for the coming year:
Make it a movie night, no date required - Rent a DVD, grab a stack of pillows and warm blankets and set up a living room picnic with popcorn and peach mimosas - or ginger ale with a cinnamon stick.
For the young, and young-at-heart, you can't lose with animated classics like Rudolph's Shiny New Year or Happy New Year, Charlie Brown. Grown-ups might choose a favorite director - Alfred Hitchcock, Woody Allen or Ingmar Bergman - and squeeze in a double feature before the clock strikes 12. Stick to the holiday theme with a comedy like When Harry Met Sally, a romance like The Apartment or a mystery like After The Thin Man.
Heat up the oven and click on the TV - Plan ahead and make your own indulgent New Year's Eve dinner, complete with a dessert you'd never dared before (perhaps a chocolate souffle), light some candles and dine with your family or loved one decked out in slippers and pajamas. Let Dick Clark's Rockin' New Year's Eve, now with co-host Ryan Seacrest, entertain you and count down to a new year ahead. The Times Square holiday broadcast has been going strong since 1972 and will air at 10 p.m. Dec. 31, on ABC, Channel 7. After all, what would New Year's Eve be without the ball drop?
BYO Wine and Dine - Gather a group of close friends and ask everyone to bring a favorite bottle of wine, and an appetizer or dessert to share. Spend the time sampling flights - from white to blush to full-bodied red - and noshing on home-baked goods while you investigate the lyrics to Auld Lang Syne, the Scotch song known to ring in many a New Year. Try hanging sprigs of mistletoe around the house, to catch your unsuspecting pals off guard.
WITHOUT BREAKING THE BANK
If you can't imagine closing the door on 2008 without some serious dance moves, consider these mid-priced options for singles, couples or groups:
Ferndale's Boogie Fever blends the sounds of the '70s and '80s with party favors, a champagne toast and late-night pizza buffet. Doors open at 9 p.m. Dec. 31, at 22901 Woodward Ave., Ferndale. Tickets $25 in advance at
http://www.boogiefevercafe.com/
.
The Royal Oak Music Theater features Eve's New Year with guest Lori Michaels. Doors open at 9 p.m. Dec. 31, at 318 W. Fourth St., Royal Oak. The event is 21 and older and tickets $15-$30, call (248) 399-2980.
Craving those '80s hits you know and love? Feel like breaking out your Pat Benatar-inspired shoulder shakes? Head to the Magic Bag in Ferndale for the annual Mega 80s New Year's Eve Bash. Doors open at 8 p.m. for anyone 21 and older.
Tickets $40, visit
http://www.themagicbag.com/
for details.
The bar is located at 22920 Woodward Ave., Ferndale. Call (248) 544-3030.
SET TO SPLURGE
From belly-laughs to long-standing traditions, make it a night to remember at any of these events:
For 21 years, Livonia's Laurel Manor has held the tradition of hosting a New Year's Eve Gala. This year will be no exception. From 7 p.m. to 1:30 a.m. on Dec. 31, patrons will enjoy hors d'oeuvres, an open bar, dinner featuring filet mignon and chicken or a vegetarian entree, dessert table and an afterglow featuring pizza and Danishes after midnight. Tickets $85 per person, 21 and over only, call (734) 462-0770. Laurel Manor is at 39000 Schoolcraft in Livonia, visit
http://www.laurelmanor.com/
.
Canton's Village Theatre hosts New Year's Eve with Two for the Road, a stage show featuring the music of Dean Martin, Barry White, The Beatles and more. The evening includes a strolling reception and champagne at midnight. Festivities begin at 9 p.m. Dec. 31, 50400 Cherry Hill Road in Canton. Tickets $50, call (734) 394-5300 or visit
http://www.canton-mi.org/
.
If your New Year's Eve requires a full-scale balloon-drop and fireworks, check out A New Year's Eve-olution, 9 p.m. Dec. 31 at Clutch Cargo's, 65 E. Huron in Pontiac. The first 100 tickets sold cost $40, then the price rises to $75, but it includes a top-shelf open bar until 1 a.m., elegant hors d'oeuvres, champagne, music by DJs Ryan Richards and Braz D, a fashion show, magicians, comedy by Guy Copeland, door prizes and a late-night buffet. Call (248) 333-2362 or visit
http://www.clutchcargos.com/
.
Eve '09 at the newly-revamped Hyatt Regency of Dearborn features music by DJs Captn20, Fadi and Blake George, model art, dancing in the Grey Goose Ballroom, a Platinum Ice Lounge featuring Jose Cuervo Platino Tequila, visit
http://www.eve09.com/
for details and prices as they become available.
If you love Middle Eastern food and music, check out the lavish, stylish New Year's Eve Celebration hosted by legendary modern musicians Emad Batayeh and Osama Baalbaki plus DJ Franky Bones. The huge event includes appetizers, dinnner, champagne, breakfast and full premium bar. There's also kids tickets available that includes dinner and babysitters. The party also includes a raffle and prizes. Tickets are $75, $100 and $125. Location is the upscale Bella Banquet Center, 4100 E. 14 Mile Road in Warren (at Ryan Road. For details call (810) 397-8500.
Ring a Ding Ding with The Rat Pack is Back! a musical tribute to Frank Sinatra, Sammy Davis Jr., Joey Bishop and Dean Martin, offering show-only tickets for $45 at 6:30 p.m. and $65 at 9:30 p.m. on New Year's Eve. Dinner and a show offered at the same times for $110 and $130, respectively. Or opt for dinner only at the Century Grill, reservations run from $65 to $90, later seatings include a midnight champagne celebration with party favors and members of The Rat Pack Orchestra. It's all happening at The Gem Theatre, 333 Madison Ave., Detroit. Call (313) 963-9800.
Comedians Steve Harvey and Katt Williams take the stage for the 2008 Championships of Comedy, 9 p.m. Dec. 31, at Joe Louis Arena, 600 Civic Center Drive, Detroit. Tickets $65-$250, call (248) 645-6666.
The Barenaked Ladies will rile up the crowds, making them feel as if they had a million dollars, at The Fox Theatre, 9 p.m. on Dec. 31, 2211 Woodward, Detroit, Tickets $55-125, call (248) 433-1515.
Make it to the Mansion for an unforgettable New Year's Eve bash this year as Detroit's Whitney restaurant opens its doors - and even heats garden tents - for revelers. The restaurant offers three dinner seatings, at 5 p.m., 7 p.m. and 9 p.m. but the party begins at 10 p.m. and keeps rocking with DJs Matt A and DJ Roc Boy until 4 a.m. Enjoy a premium open bar, champagne toast and hors d'oeuvres for $100 per person or reserve a booth for up to six guests including unlimited bottle service for $900. Late-comers arriving after 1 a.m. pay $50 each. Reserve a spot at (313) 832-5700.