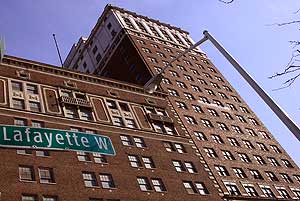 Revitalization Project Marks Downtown Return Of First Full-Service Hilton Family Hotel In Three Decades With Stylish, Upscale, All-Suite Hotel Product
DETROIT, (BUSINESS WIRE) -- Doubletree Hotels is proud to announce that a legendary landmark has re-opened its doors to welcome local residents and the world's travelers to downtown Detroit with a 204-room Doubletree Guest Suites hotel.
Located at the intersection of Lafayette Boulevard and First Street, the Doubletree Guest Suites Fort Shelby / Detroit Downtown is a modern reinvention of the former Hotel Fort Shelby, which first opened its doors in 1917 and is on the National Register of Historic Places.
The $90 million, multi-year renovation project combined painstaking preservation and recreation of historic details and materials with ultra-modern amenities and infrastructure to create an all-suite hotel that celebrates Detroit's rich history, while providing guests with a state-of-the-art environment for business or leisure travel.
As the team continues to put the finishing touches on the hotel, today's opening of the Doubletree Guest Suites Fort Shelby/Detroit Downtown marks the return of the first Hilton Family full-service hotel to the city center in more than 30 years. The Doubletree Guest Suites hotel, which will be managed by Hilton Hotels Corporation, is owned by MCP Development, LLC.
"Doubletree is honored to represent the return of the first full-service Hilton Family hotel to the heart and soul of the Motor City with an outstanding all-suite hotel experience," said Dave Horton, senior vice president - brand management for Doubletree Hotels. "From Minneapolis to London and now Detroit, this is the third center city property this fall we've added to our Doubletree collection where historic architecture and design has been preserved and contemporary style has been incorporated to create a refreshingly unexpected hotel experience that celebrates a major city's downtown district. The transformation of the Hotel Fort Shelby into one of the jewels in the Doubletree portfolio reaffirms our commitment to providing attractive and comfortable, upscale hotel experiences wherever our business and leisure customers travel."
The Doubletree Guest Suites Fort Shelby / Detroit Downtown is one of the only all-suite hotels in downtown Detroit. The 203 spacious suites at the hotel include a separate living room with sleeper sofas and a connecting sleeping room filled with the inviting Sweet Dreams by Doubletree sleep experience and a variety of residential-style amenities. Wired and wireless high-speed internet access; flat-screen TVs in both the bedroom and living rooms; MP3-compatible, stereo clock radios; Wolfgang Puck in-room gourmet coffee service; Neutrogena bath and body products and upgraded lighting and granite counters in the bathroom complement all of the hotel's comfortable guest room experiences.
The Doubletree Guest Suites Fort Shelby / Detroit Downtown also brings a new quality of business meeting space to downtown Detroit. The hotel is awaiting a pending certification to become the only hotel in Greater Detroit to have a conference center that is certified by the International Association of Conference Centers. Unlike other meeting spaces that repurpose banquet facilities, the 21,000 square feet of conference and event space at the Doubletree Guest Suites will offer dedicated business-class amenities such as hard-surface meeting tables; ergonomic conference seating; built-in audio/video and computer networking systems; all-day refreshment centers; a comprehensive business center with Internet-connected computers and copy/print capabilities and other top-end features required by business meeting planners.
These updated amenities combined with a professional staff that is available to assist with all aspects of conventions, business meetings, seminars, weddings and other functions make the Doubletree Guest Suites Fort Shelby / Detroit Downtown an ideal location for any event.
One of the most exciting additions to the Doubletree Guest Suites Fort Shelby / Detroit
Downtown is the new Finn & Porter restaurant, which gives surf & turf a contemporary twist. At Finn & Porter, USDA prime steaks and seafood from around the world are brought together in a hip and inviting atmosphere to create a new dining experience.
In addition to the restaurant, the Finn & Porter Sushi Bar and Finn & Porter Round Bar lounge will offer lighter fare in an upscale environment with floor-to-ceiling windows looking out on Detroit's skyline. For guests on the go, a Bearclaw Coffee shop offers coffee, pastries and other quick options.
For guests who want to keep their workout program on track while traveling, a state-of-the-art fitness facility equipped with the latest in cardio and weight training equipment by Precor Fitness is available.
Members of the Hilton HHonors guest reward program can Double Dip and earn both airline miles and hotel points for every qualifying stay at the Doubletree Guest Suites Fort Shelby / Detroit Downtown. Hilton HHonors is the only guest rewards program that allows members to earn Points & Miles for the same stay and redeem points for free nights with No Blackout Dates. With No Blackout Dates, as long as a standard room is available, members can confirm that room using their Hilton HHonors points.
"The 135 team members of the Doubletree Guest Suites Fort Shelby / Detroit Downtown are excited to represent a new chapter of hospitality in this strong, resilient and proud city," said Shannon Dunavent, hotel general manager. "We look forward to welcoming the world's travelers to enjoy our combination of historic elegance and contemporary convenience, our unparalleled conference center and event space and our enticing food and entertainment options that all begin with the warm signature welcome of our legendary chocolate chip cookie at check-in."
The Doubletree Guest Suites Fort Shelby / Detroit Downtown is a short walk from business and leisure centers such as the Cobo Center convention center (home of the North American International Auto Show) ; Joe Louis Arena (home of the defending Stanley Cup champion Detroit Red Wings); General Motors World Headquarters and Hart Plaza (home of internationally-recognized events such as the Detroit Electronic Music Festival, the International Freedom Festival and the Detroit International Jazz Festival).
The hotel also provides a complimentary shuttle service within a two-mile radius of the hotel, upon request.
Located just 25 minutes from Detroit/Wayne County Metropolitan Airport, the Doubletree Guest Suites Fort Shelby / Detroit Downtown is located at 525 West Lafayette Ave., Detroit MI 48226. For more information, visit the hotel's website at detroitsuites.doubletree.com, call l-800-222-TREE in the U.S. and Canada or contact the hotel directly at 313-963-5600.
To make reservations at any Doubletree hotel, travelers can visit our website at
http://www.doubletree.com/
, contact their preferred travel professional or call 1-800-222-TREE in the U.S. and Canada.
Hilton HHonors membership, earning of Points & Miles, and redemption of points are subject to HHonors Terms and conditions. 2008 Hilton Hotels Corporation