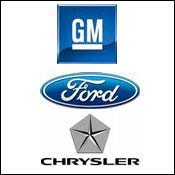 DETROIT -(Dow Jones)- A group of 1,200 credit unions in the nation's Midwest will extend $10 billion in discounted auto loans to help spur sales for Detroit's auto makers.

Car buyers in Michigan, Ohio, Indiana and Illinois can get discounted rates on General Motors Corp. (GM) vehicles under a deal announced Wednesday between the auto maker and consortium of credit unions. The group said it's working with Ford Motor Co. (F) and Chrysler LLC on a similar arrangement.
The plan is called Invest in America, according to a news release posted on the Michigan Credit Union League's Web site.
The league claims a membership of aboutg 12 million consumers. The program will be tested in the four states, possibly going nationwide early next year, the release said.

The program is effective immediately and will run through June 30. It offers eligible vehicles at a price discount to credit union members and their households. Members who buy cars under the program also are eligible to get an additional $250 bonus cash between now and Jan. 5.

"This new arrangement with Midwest credit unions creates a tremendous value for GM and for thousands of credit union members," said Mark LaNeve, GM vice president of vehicle sales, service and marketing. "We appreciate the credit unions' promotional support and are pleased to make this offer."

"Credit unions have a long history of helping hard-working Americans in troubled times," said Daniel Mica, CEO of the Credit Union National Association.
Credit union members can find details on the discounts at
www.lovemycreditunion.org
and obtain an authorization number to take to any GM dealership. The price discount applies to purchases of eligible new Buick, Cadillac, Hummer, Saab, Chevrolet, GMC, Saturn and Pontiac vehicles.