CNN Money
Detroit residents always get asked why they stay. 13 locals answer that question - and reveal their favorite treasures of the Motor City.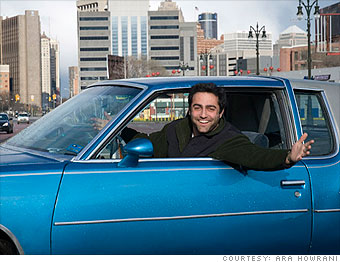 Ara Howrani

Ara Howrani, owner of Ameen Howrani Photography, likes to cruise Michigan Avenue in his "old school red hot" Cutlass Supreme.

Lived in Detroit: Almost my whole life
Favorite spot: Michigan Avenue
I love to drive around in my old-school hot rod, a Cutlass Supreme, and blast Jaydee, a local hip-hop producer. His music really represents Detroit, and I feel like I'm in a music video because I'm literally seeing what he's saying - especially on Michigan Avenue.

Michigan Avenue is one of the five major avenues that shoot out of the harbor, and it's my favorite because it's littered with little gems along the way: Campus Martius Park, Tiger Stadium, churches, cool underground galleries, liquor stores and more.
My favorite spot on the avenue is Lafayette Coney Island, a real greasy spoon with four items on the menu. It's a place for everyone who knows and loves the city: sports stars, firemen, the mayor.
Why I love Detroit: Personally, I love the creative potential as an entrepreneur. It's not oversaturated like New York or L.A. We have a lot more freedom here.
The city is raw and industrial, and that's made me who I am. I feed off it. I'm a free, open-minded person who's open to diversity and realness and rawness. Detroit made me this way.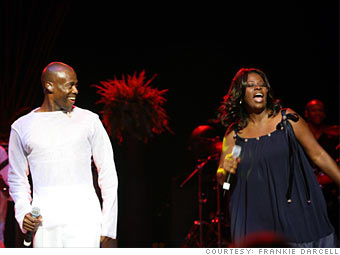 Frankie Darcell
Frankie Darcelle, a Detroit radio/television personality (right), seen on stage at
Chene Park Amphitheater
with Kem, a Detroit-based R&B singer on the Motown Records label.
Lived in Detroit:
15 years
Favorite spot:
Chene Park Amphitheater
I've hosted more than 300 concerts at Chene Park, but the magic never goes away. The whole city buzzes with excitement the night of a show. The amphitheater is situated right on the river, so people can park their boats right next to the stage. The front-row seats are so close that fans can almost reach out and touch the artist.
Everyone comes together at Chene Park. It's a lot of diversity right in the heart of the city. It's boosted by a lot of pent-up energy, because we have such long and gruesome winters. We love any opportunity to do something outside, and trust me, this is a music town. Motown was just the start of it.
Why I love Detroit: I was planning to stay three years for a job, and instead I've been here 15. Detroit gets a bad rap; media find the one burned-out house or the one guy with no teeth. I'm not in denial; we have a lot of issues. But some of us are middle-class and well-educated, and we stay.
I love this community. There are people here trying to save the city. I stay here for them, because I know I have a big voice here. Someone needs to speak for the people who are excited about the future of this city. That excitement is infectious.
Patricia Nemeth, an attorney, sits with her daughter, Sophina, at the
Coach Insignia
restaurant.

Lived in Detroit:
6 years
Favorite spot:
Alice in Wonderland-esque chairs at
Coach Insignia

The bar is located at the top of the General Motors building, almost 75 floors up. In the corner, where it's a bit darker, are the most glorious chairs you've ever seen. The four chairs are covered in red velvet, exactly like I'd imagine a queen's throne.

The chairs' backs are about six feet high, and I almost have to climb into them since I'm short. Then I look out the large windows, gazing over the city lights. It's so meditative; I just lose myself and forget about what's happened during the day.

Why I love Detroit: The view reminds me that everything I love to do is here in Detroit - my daughter Sophina's school, MGM casino, my neighborhood in the central business district - and I can walk to it. It's a very simple life for me, and I like that.

Those people are the reason I call Detroit home. They have a never-say-die mentality. If there is anything that can be said of Detroit, it's that we are survivors. Thanks to this city, that's how I think of myself, too.