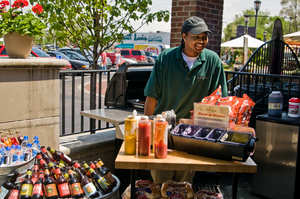 Marketwire
During Michigan's beautiful summer months, Westborn Market is encouraging customers to munch on local "grillables" while they do their weekend shopping.
Westborn Market's three stores are all hosting outdoor grills from 11 a.m. to 5 p.m. every Saturday and Sunday, now through the summer season.
Grill selections range from as low as $1 for a Dearborn sausage hot dog, up to $5.50 for a grilled Michigan Amish chicken breast or pulled pork sandwich, each served with Westborn's new cherry barbeque sauce, famous slaw and killer brownie bite. Other popular selections include cherry turkey burgers, Westborn's famous 1/2 lb. handmade ground round burgers, Better Made potato chips, Cherry Republic sodas and Faygo pop.
"We began our outdoor grill several years ago by serving hot dogs, chips and pop," said Mark Anusbigian, one of three brothers who manage the family-owned gourmet grocer. "Because of the grill's growing popularity and our efforts to promote Michigan produced items, we've greatly expanded the menu. These selections also help customers make purchasing decisions for their own summer grills and picnics."
Westborn Market has stores in Dearborn, Berkley and Livonia.
Store locations, hours of operation and weekly specials are available at
www.westbornmarket.com
or by calling 313-274-6100.