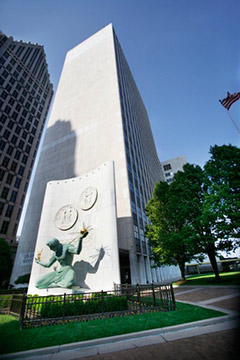 Kelli B. Kavanaugh
Model D
Old buildings. Detroit is chock full of 'em. People tend to view their value in architectural or historical terms, not environmental. After all, it's eas(ier) to build a new building that is highly insulated and has a solar hot water heater than it is to take a drafty manse and make it efficient.

At least at a surface glance, it is.

But more Detroiters are ignoring conventional wisdom, taking matters into their own hands and going green within the city's existing building stock. And many will point out rightly that that is actually greener than new construction -- as green renovations use all 3 Rs: reduce, reuse and recycle.
Here are some of their stories.

City Hall? Really.
Considering that Detroit is just getting a pilot curbside recycling program off the ground, one would be forgiven for thinking that the
Coleman A. Young Municipal Center
has open windows in the winter, old-school space heaters tucked under desks and buzzing florescent bulbs that get left on all night.
You'd be way wrong.

For the third consecutive year, the building has received the Energy Star label from the Environmental Protection Agency and the U.S. Department of Energy for its overall efficiency.

The building, which is owned and operated by the Detroit Wayne Joint Building Authority, has gone so green that it has saved taxpayers a bundle: $3 million over the past three years.

What's been done? Simple things like modifying building hours of operation to reduce electricity needs (implementing daytime cleaning and maintenance, for example, so lights aren't on all night), improving thermostatic controls and upgrading lighting by adding 18,000 high-efficiency lamps and electronic ballasts.

On top of that, heating and cooling systems have been upgraded and -- in what might be most progressive measure of all -- the flow of the Detroit River is used to chill computer systems.

Gregg McDufee, the building authority's general manager, estimates that this alone saves more than $700,000 per year in water charges.Overall utility consumption has been reduced by 50 percent, which has reduced tenant rent paid by the City of Detroit and Wayne County and allowed reinvestment in capital improvements such as the Spirit of Detroit statue restoration, renovation of the City Council auditorium and improvements to the Center's automation system that will further reduce electrical consumption.

The authority's plans call for continued greening efforts, with the ultimate eye toward LEED certification for the building, the gold standard in building sustainability ratings.