1. Robocop
Additional Photos Here
How-To Instructions
2. Spirit of Detroit
How-To Instructions
Liberty Green Body Makeup
Green Color Hair Spray
One Of The Above Jersey's
Loin Cloth
and
Fabric Paint
(or white sheet)
Optional: Hulk Chest (
Adult
,
Child
)
Gold Spray Paint (for objects in each hand).
Object 1
Object 2
Tip: For the body makeup, the color doesn't need to be solid. Example
HERE
3. Coleman Young
How-To Instructions
3-Piece Suit (Grey or Black)
Pocket Square
Cuff Links
Watch
Glasses (optional)
Salt and Pepper your hair and mustache with hair paint (
this brand
is great found at
Lynch's in Dearborn
. Apply it on a tooth brush and blend)
Most Important:
Carry around the
'Quotations of Mayor Coleman A. Young'
book (it will fit in your pocket) and randomly read quotes to your friends through the evening. This book is a gem. You can find it online or at
Pure Detroit
locations.
Couples Option: Combine with Spirit of Detroit
4. Joe Louis Statue
How-To Instructions
White Boxing Shorts (White boxer shorts will also work and are way cheaper)
White Boxing Gloves
Bronze Metallic Body Paint
(for body and hair) Lynch's in Dearborn also carries this line
Bronze Clothing Dye
Boots
Bronze Spray Paint
(for boots)
5. Little Caesar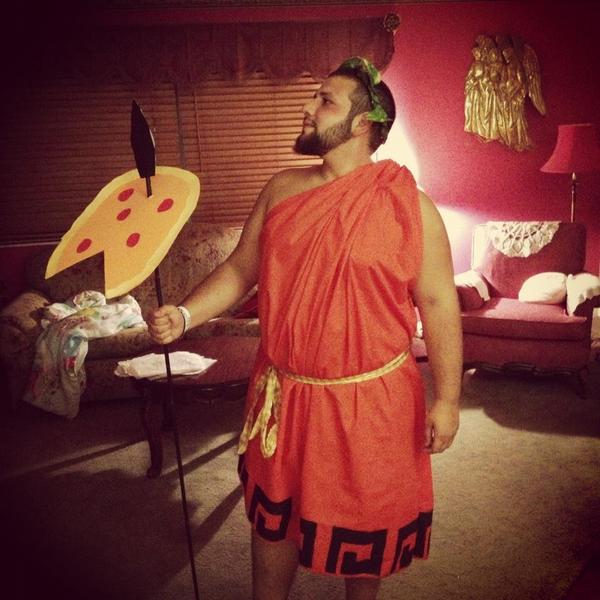 How-To Instructions
Orange Sheet
Black fabric paint/pens (for design that runs along the bottom of the costume) or cut out sections of felt and glue
Gold Cord Belt
Sandals
Leaves (go to your nearest Michael's)
Spear - (thin black rod, make spear out of cardboard and paint black)
Pizza - Arts and Crafts time with some poster board and markers/sharpies
6. Detroit Derby Girl
How-To Instructions
Helmet
Arm Pads
Knee Pads
Derby Girls Tank
Black Leggings/Nylons
Knee High Socks
Shorts
Black Skates
Hint: I would contact the
Detroit Derby Girls
for any stickers/decals/etc
7. Jack and Meg White
How-To Instructions
Jack:
Shirt
Pants
Belt
Shoes
Hair
White Face Make-Up
Microphone and Guitar (optional)
Meg:
Dress 1
Dress 2
Dress 3
Dress 4
(google "white mexican lace dress")
Wig
White Face Make-Up
Drum sticks (optional)
8. Penobscot Building
How-To Instructions
Foam core board (for both building and attachment on the light)
Sharpies
LED light
Red Ball
Hat
Straps for shoulders
9. Harry Houdini
How-To Instructions
Couple sets of handcuffs
Chair around chest
Silver locks attached to chain
Black suit
White shirt (
sleeves rolled up and over jacket
)
Black bow-tie
Optional: dark short hair wig
10. Banksy Detroit Mural
How-To Instructions
Black leather skull cap
White paint can with red painted on the inside and a bit dripped on the outside
Paint brush with red paint dried on it
Black sweatshirt/long sleeve tshirt/black jacket with high collar, areas painted white (
example here
)
Sold Sign
(taped to front of sweat shirt)
Black Pants
Black hair color (matted down hair)
Peachy/Tan makeup for face
Tan color gloves (or makeup for face)
Dark makeup for neck and and around the eyes
11. Michael Bolton
How-To Instructions
White and Grey liquid hair color (or wig)
Black button up
Black pants
Diamond earring stud in left ear
Detroit Burnout Scroll Scarf
(crucial piece. He loves his scarves)
Microphone or Video Camera
Preloaded playlist of all Michael Bolton Motown covers on your phone
Added touch: have a custom black t'shirt made with the "Detroit vs Everybody" font, with with copy "Michael Bolton (heart 's) Detroit or "When A Man Loves Detroit."
Also, check out his
documentary on Detroit.
12. Heidelberg Project
How-To Instructions
Polkadot Onsie
or white shirt and pants painted with assorted polka dots (size and colors)
Paint a couple polkadots on your face
Walk around with a stuff animal or pin a couple to your clothes (front and back)
13. Nicole Curtis
How-To Instructions
Blonde wig (if you aren't blonde, obviously)
Tool belt filled with tools that won't be mistaken for weapons or
plastic ones like these
Tank Top or Detroit themed tank or t'shirt
Skinny Jeans
Safety Glasses
Work Boots
Also, for more information about the upcoming Open House at the
Ransom Gills
home, click HERE!
14. Detroit Craft Brewmaster
How-To Instructions
Beer (giant beer stein preferred. The more ornate, the better)
Beard
Favorite Detroit Beer Tee/Hoodie
Required: Insert your favorite Hops notes into every conversation you have while smelling your beer, your friend's, and stranger's
Mid-Calf Dark Boots
Optional: Ascot, Silk Robe, White Dress Shirt, Black Dress Pants