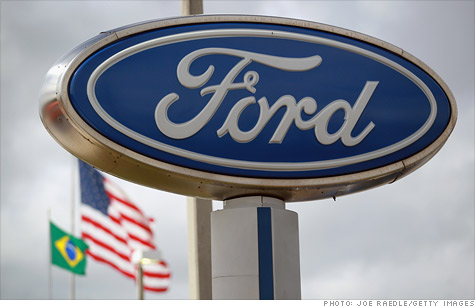 CNN Money
Ford reported its best annual earnings since 1998 on Friday, making 2011 the second most profitable year in the company's 109-year history.
But much of the profit was attributed to a non-cash gain, as it put a large tax credit from past losses on its balance sheet that will shield it from taxes in the future. Excluding that credit, the carmaker posted full-year and quarterly earnings that fell short of last year's profit as well as analysts' forecasts.
Shares fell 2.7% in pre-market trading on the earnings miss.
The company's 2011 net income of $20.2 billion, up from $6.6 billion in 2010, was the best since 1998, when it received a large one-time gain from the sale of The Associates financial unit. About $12.4 billion of the latest profit came from the accounting gain.
Excluding special items, Ford (F, Fortune 500) reported operating income of $6.1 billion, or $1.51 a share, down from the $7.6 billion, or $1.91 a share, it earned on that basis in 2010.
Fourth-quarter operating earnings of $787 million, or 20 cents a share, were down from $1.2 billion, or 30 cents, a year earlier, as flooding in Thailand that shut suppliers' plants hurt its results in its Asia-Pacific region. Analysts surveyed by Thomson Reuters had forecast earnings of 25 cents a share.
Pretax earnings for the quarter and full year improved in Ford's home North American market due to increases in both the pricing and the volume of vehicles sold. The company's profit margin in the region also improved.
The strong North American results mean that the 41,600 members of the United Auto Workers union will be getting larger profit-sharing payments for 2011.
Full-year payments to the factory workers will average $6,200, up from $5,000 in 2010. But the workers already received more than half of that money in December due to the new labor deal reached in the fall.
The company announced earlier this month that its white collar workers would get both bonus payments and merit raises for 2011, the first time in four years they've received both.
Click
HERE
to read the rest of this article!