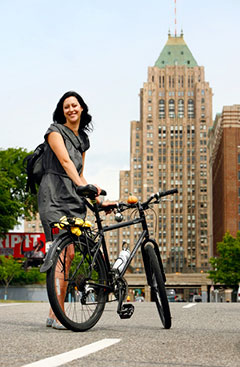 Clare Pfeiffer Ramsey
Model D
Featured in the Fall issue of Next American City
Karen Gage says the best way to travel Detroit is by bike. The entrepreneur and community development star isn't just saying that because she started the city's first bike rental business a year ago. Karen's bike is her main mode of transportation. She says the city's flat, wide streets and sparse traffic make for great conditions for those who prefer two wheels to four.
"People ask me all the time if I feel safe, and I just want to be like, 'No. No I don't. And it sucks. That's why I ride my bike every day,'" Karen says, with an ironic deadpan.
So where does the biking businesswoman and urbanist pedal to in Detroit?
Everywhere. By day, she uses her urban planning background in her role as vice president of the New Center Council, a community development corporation in a busy neighborhood at the northern edge of Detroit's downtown. By evening and weekend, she is co-owner of Wheelhouse Detroit, the bike shop that opened last year on the city's recently developed RiverWalk along the Detroit River. A day in Detroit for Karen is never the same, but wild variety and randomness are why she loves this city.
Karen's day in Detroit:
9:30 a.m. Coffee for breakfast at Stella International Café in the Fisher Building lobby. The small but chic coffee shop serves Illy brand brews and makes a mean Americano, Karen's favorite. It's owned by the same people behind the Pure Detroit t-shirt shop, which is also in the same, glorious, art deco, iconic Albert Kahn building, along with her New Center Council headquarters.
10 a.m. Meetings and phone calls at New Center Council. She and the team are working on big projects, including revamping an old, admittedly creepy viaduct with new lighting and public art. The project "is going to be a nightmare, but I love it," Karen says. Then there's the massive rehabilitation of the Argonaut Building, a coup for New Center. The city's art and design school -- College for Creative Studies -- is putting $145 million into the redevelopment of the 760,000-square-foot, 11-story Argonaut. The former General Motors '20s office building once was home to the auto company's designers but has been vacant for five years. Starting this fall, it will house a new generation of creatives in the art school's dorms and classrooms, plus a new charter school for the city's youth. The neighborhood is already feeling the impact from the project, even before the kids move in. "All the construction guys are coming in. They shop at our stores. They eat at our restaurants. And when it actually opens, it'll be more," Karen says.
Noon: A slice at Supino Pizzeria in Eastern Market. If she can squeeze it in, she loves to grab lunch at this relatively new spot next to the region's premier farmers market. "It is hands down the best pizza I've ever had," she says. The Wheelhouse crew often bikes there on the Dequindre Cut bike path, which opened this year. With graffiti encouraged, the $3 million, 1.2 mile greenway replaced a former depressed rail corridor. And now Karen and the bike shop crew call it their "pizza super highway."
5 p.m.: Karen takes her turn minding the Wheelhouse. In its second year, sales are up. She and biz partner Kelli Kavanaugh offer guided rides that are often sold out, attracting both out-of-town tourists and metro Detroiters wanting to know their city better.
8 p.m.: Drinks at Park Bar. After work, Karen heads over to a favorite spot for Detroit urbanites: The Park Bar. Owner Jerry Belanger opened the bar two years ago, and it's where the "Who's Who" of Detroit downtown dwellers come to gossip and drink the local brews on tap. "You can go there by yourself, and you always run into someone you know. And even if you don't see someone ... no, you always do," Karen says.
9 p.m. Party at MOCAD ... or some other random act of fun. If something is going on, and there's almost always something, the MOCAD -- Museum of Contemporary Art Detroit -- has cool, funky and enlightening programs. Plus they throw the best parties, attracting the art-collecting elite and art school kids alike. The Museum has brought in the "Shrinking Cities" exhibit from Berlin and showcased plans for a "container house" development dreamed up by Detroit architects. A talk this summer was entitled, "Is Detroit Really The New Berlin?" If nothing is going on at MOCAD, there's always something else odd or enticing, or both. One night, it was an Alley Cat Bike Race: Think chopped bikes put back together in some creative way and then raced like hell through the city streets. On another night, a friend put together performance art in a vacant lot that involved cooking with power tools. Another night friends rented a boat and threw a huge dance party on the river.
Midnight: Bedtime, or perhaps a visit to a local bar. A Friday favorite is Café D'Mongo's Speakeasy, a late-night jazz hangout whose decor prompted one writer to call it "Liberace's living room." "David Lynch's lounge" would also work. If it's a Thursday night, she enjoys the dive bar goodness of a place like L.J.'s in Corktown, where neighborhood residents and hipsters mingle, sing karaoke, and soak in the low-key atmosphere. If she opts for sleep, it'd be hard to blame her. The next day in Detroit could mean more bikes, buildings or trips on the pizza superhighway. She just never knows.