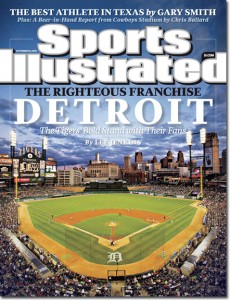 BILLFER
http://www.detroittigersweblog.com
The city of Detroit and the Tigers in particular are about to receive some big time attention from Sports Illustrated as the featured story in the September 28th edition of the magazine. Get your jinx reversing gear prepared.
The Tiger related coverage includes:
Assignment Detroit – Tigertown by Lee Jenkins
Tigers/Twins is best in a weak year for playoff races by Joe Posnanski
Twenty year old Rick Porcello plays key role for Tigers by Lee Jenkins
How Verlander got his groove back by Joe Lemire
For owner Mike Ilitch, it has been a pretty good week PR wise. In addition to the Jenkins article where Ilitch is praised for his approach to Tigers ownership:
He is a businessman by trade, but he is consumed with two causes that don't always lend themselves to profit. "Turning around our city," he says, "and winning the World Series." Ilitch, who is 80, wants to see those goals realized in his lifetime, which helps explain how the Tigers have managed to keep payroll high, ticket prices relatively low and the community-relations budget constant in a period of plummeting revenue. As one major league executive puts it, "Their owner doesn't operate from a profit-and-loss standpoint. He treats the team more like a public trust."
..he was also featured in the Free Press where various players describe their interactions and respect for him.