by Charla Bear
NPR Morning Edition June 11, 2008
Click Here to Listen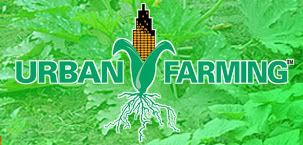 Wayne County, Mich. — home to Detroit — has been hit especially hard by the mortgage crisis.
The county has inherited thousands of unwanted properties, leaving plot after plot of vacant land. So a nonprofit group pitched an idea: Take that unused land, and grow food for the needy.
This year, the group — called Urban Farming — will take 20 derelict properties in Wayne County, then pull weeds, lay fresh topsoil, and plant fruits and vegetables.
The gardens aren't fenced off, so anyone can wander through and take their pick — for free. Any leftover produce is donated to food banks.
'A Huge Boon'

Neighborhoods in Wayne County are littered with boarded-up homes and vacant land that's covered in knee-high grass. Demolished apartment complexes have left empty lots the size of football fields.
That's why Urban Farming founder Taja Seville says Detroit was the perfect place to start working on farming projects. The city has long suffered from a glut of available property, and last year it topped the nation in foreclosures. Wayne County now has about 7,000 idle plots. Seville saw that as an opportunity.
"I've lived in L.A., N.Y., Connecticut, London, Minneapolis, and been around a lot, seen a lot of cities. But I've never seen these long stretches of unused land," says Seville.
Under the 20-plot pilot program, volunteers will tend the garden, and the city of Detroit will pitch in water.
Wayne County Treasurer Raymond Wojtowicz says that's a huge boon.
"It won't cost the county anything. We're donating the land. If a person wants to purchase the lot, it will be for sale. Perhaps it will be an inducement," says Wojtowicz.
'I Want to Garden There'

Wojtowicz says the biggest benefit, though, is less blight in the neighborhood. And residents say that, unlike abandoned houses, the gardens aren't targeted by vandals.
Detroit resident Eric Parrish says that those who live around the gardens respect the farming projects. "They see we're doing something to help the community," he says.
Parrish says he recently started gardening with Urban Farming because it helps turn things around in his city.
"You can tell people are struggling. So when I do see these plots of land it makes me say, 'I want to garden there,' " he says.
Parrish says most people are grateful for the gardens, although at first a few were concerned they would attract pests.
Turns out that urban farms do attract people, says Gail Carr, one of Detroit's city managers. She has houses boarded up nearly every day and sees what a dramatic difference the gardens have on communities.
"People are coming out of their homes who wouldn't come out under other circumstances because they didn't think there was still a community or a neighbor or a friendly person nearby," she says.
Wojtowicz says the county is watching the program and hopes to expand it.
Seville isn't waiting to expand. She plans to plant hundreds of gardens in at least a dozen other struggling cities this season.
To learn more about Urban Farming, their locations, upcoming events, and how to get involved
click here
for their official website