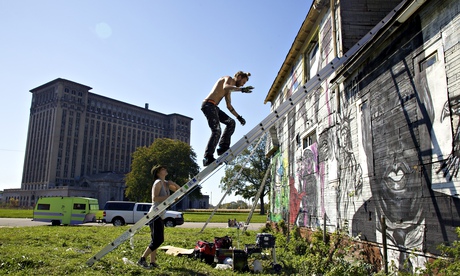 Artists paint a house near Detroit's iconic old train station. Photograph: Melissa Farlow/National Geographic Society/Corbis
Last year Detroit became the largest city in US history to go bankrupt. But when you hit rock bottom, the only way is up. Jennifer Conlin explores an urban renewal in progress.
Picture Detroit today and the images that probably come to mind are of "ruin porn" (the now infamous term for beautifully shot photos of dilapidated buildings); urban exploring (the new craze of creeping around abandoned complexes as seen in Jim Jarmusch's new film Only Lovers Left Alive) and foreclosure frenzy (there are now nearly 80,000 empty homes to be torn down or fixed up in Motor City). Sadly, last year, another grim label – Broke – was stamped on Detroit's languishing landscape, when it became the largest American city ever to file for bankruptcy.
But there is another side to the city's desperate times. In its daily battle to stave off extinction, "the D", as it is affectionately known, has become a fascinating place to visit. This is a period when it's possible to get a glimpse of one of the world's edgiest, most exciting, urban enclaves – a place that is looking inventively and enthusiastically toward the future.
This mood is reflected in Jarmusch's movie, with its moody shots of the city and the prediction from Tilda Swinton's psychic vampire, on seeing the city for the first time, that "this place will rise again … this place will bloom".
Like in any city that has nowhere to go but up, it is the artists, activists and entrepreneurs who have created opportunity in adversity, pooling their creative resources and working together in an effort to bring the city back from the brink. And the roots of Detroit's revitalisation are now becoming visible. With one-third of the land mass in Detroit now vacant, the development plan for the city has been to first concentrate on building back "density" (for which read, "population") in four distinct neighbourhoods – all less than a 10-minute drive from one another – Downtown, Midtown, Corktown and Eastern Market.
Click HERE for the full story!