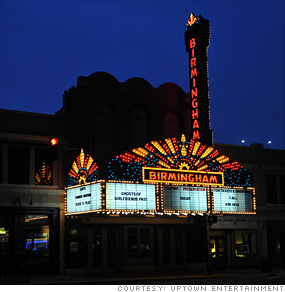 Mary Beth Almond
C & G Staff Writer
City Manager Tom Markus was not surprised when a representative from
CNNMoney.com
informed him that Birmingham had made their
Best Places for a Healthy Retirement
list.
"It's a community that is safe, clean, healthy, and it has all the amenities, so I wasn't surprised we were in there," he said.
One of just 20 communities nationwide to make the list, Birmingham was the only town in Michigan to be recognized.
Cities made the list based on a variety of factors, such as population, the percentage of people over the age of 50, the number of doctors in the county, the number of hospitals within 30 miles, life expectancy at birth, and whether the city provides for an active lifestyle, according to the
CNNMoney.com
Web site.
The top 10 list included Anaheim, Calif; North Hempstead, N.Y.; Fort Lee, N.J.; Yonkers, N.Y.; Downers Grove, Ill.; Los Angeles; San Jose, Calif.; Natick, Mass.; Stamford, Conn.; and Seattle.
Birmingham was listed as No. 14. Birmingham's description on the Web site stated "retirees can leave their cars behind and stay fit exploring this quaint, affluent Michigan town on foot."
CNNMoney.com
noted that in Birmingham, the focus is on walking, although it's just a half-hour's drive from the hustle and bustle of downtown Detroit. The Web site went on to say that because of the city's efforts, Birmingham is now considered among the top 20 walkable towns in the U.S.
Planning Director Jana Ecker said all of the city's planning practices work towards walkability, and creating a lively and diverse atmosphere that will encourage visitors and residents alike to spend time downtown.
"We have several master plans across the city — the downtown, Rail District, Triangle District — that all require a mix of uses to create a live, work and play environment. All of these plans are also form-based, in that there are regulations built in that mandate the form and location of buildings to create pedestrian-friendly, walkable streetscapes, such as requiring buildings to be built up to the frontage lines, hiding parking in the rear, requiring pedestrian-scaled architectural details along street facades, creating public gathering spaces, and enhancing sidewalk activity through outdoor dining, street furniture and special events," she said.
CNNMoney.com
also noted the wide mix of shops, restaurants and entertainment available in the city's downtown, as well as the abundant opportunities for recreation within the city's 220 acres of parks, two community golf courses, several tennis courts and trails along the Rouge River.
In some categories, Markus said, he is considered a senior now. He sees the city as a great place to retire.
"It's a wonderful town. It's a civically engaged community, and people are passionate about their town," he said. "We have had people come here specifically to retire — I know that, because I know some of them — but I think what's equally impressive is people don't leave to retire," he said.
Mayor Stuart Sherman said it seems that the rest of the country is just now noticing that Birmingham is a great place to live and recreate.
"We have worked very hard to make Birmingham a premier community, and our work is paying off. This just confirms what the residents and visitors to Birmingham already know — with our walkable neighborhoods and downtown and our improved parks, Birmingham offers many opportunities for people to be active and enjoy the atmosphere," he said.