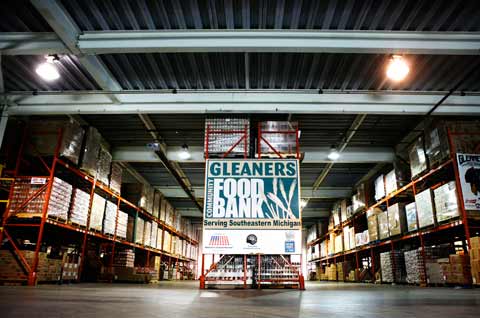 Although traditionally closed on Easter,
Olga's Kitchen
will be open at 17 locations on Easter Sunday to serve loyal fans and help our community.
Olga's Kitchen will donate to
Gleaners Community Food Bank
20% of the net proceeds from the business on Easter Sunday. For every $1 raised at Olga's Kitchen on Easter Sunday Gleaners will be able to provide 3 meals.
"We are building on our commitment to help our community", said Matt Carpenter, President & CEO, Olga's Kitchen. "Beginning with providing a free OriginalÒ Olga on April 8-10 to anyone presenting their used Jan Leno ticket stub, to our support of Gleaners Community Food Bank from our Easter Day proceeds, we are committed to make a difference in our home state.
As a Michigan based business with almost 30 years of serving Michiganders, we have a great interest in making sure that food banks such as Gleaners are able to properly feed the people of our state during these difficult times."
Gerry Brisson, Senior Vice President of Advancement, Gleaners Community Food Bank, said "With more people seeking emergency food than ever before, we are grateful to Olga's for their generous efforts. On behalf of the children, seniors, families and individuals who need help, thank you so much to everyone who enjoys Olga's this Easter! You are truly making a difference."
Olga's Kitchen will be open on Easter from 11am-6pm on Sunday, April 12, 2009 at 17 locations throughout Michigan including:
Allen Park – Fairlane Green
Ann Arbor – Plymouth Green Crossing
Auburn Hills – Squirrel & Walton Rds.
Birmingham – Old Woodward South of Maple Rd.
Bloomfield Township – Telegraph North of Square Lake Rd.
Brighton – West Grand River at Challis
Clinton Township – Garfield & 19 Mile Rds.
Dearborn Heights – The Heights Shopping Center
East Grand Rapids- Gaslight Village, Wealthy & Bagley Streets
Lansing – Frandor Shopping Center
Lathrup Village – Twelve Mile & Southfield Rds.
Novi – Grand River & Beck Rd.
St Clair Shores – Harper at 9 1/2 Mile Rd.
Sterling Heights – Van Dyke at 14 1/2 Mile Rd.
Troy – Big Beaver and John R. Rds.
West Bloomfield – Orchard Lake & Maple Rds.
Woodhaven – Allen & West Rds.