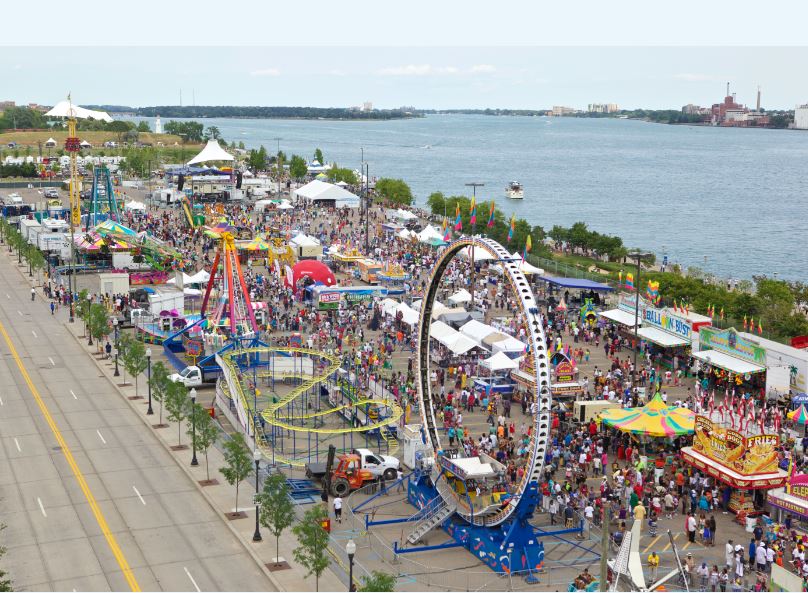 The
Detroit RiverFront Conservancy
announced details about Detroit's unofficial kickoff to summer, the 9th annual GM River Days presented by Soaring Eagle Casino & Resort, happening June 19-21, 2015. General Motors has reaffirmed their commitment to this year's festival by signing on as title sponsor for the third consecutive and fifth year combined of the festival. This year's GM River Days will soar sky high with new programming including zip line rides, a Tuskegee Airmen Museum Airshow, an impressive lineup of national music acts and a special preview fundraising event called "River Nights" to support the continued development and operations for the Detroit riverfront.
"We're excited to add these new enhancements to an already fantastic event," said Mark Wallace, president & CEO of the Detroit RiverFront Conservancy. "GM River Days is about celebrating the Detroit riverfront and bringing people together. It's been a long winter. GM River Days will get us back in the sun."
"The riverfront has become an iconic symbol to the city of Detroit, and General Motors is pleased to support the Conservancy and highlight the beautiful space along the Detroit River during GM River Days," said John Blanchard, director of local government relations, GM. "The beloved festival brings the metro Detroit community together, and GM is proud to be a part of it."
"We are incredibly grateful to General Motors and all of our partners whose generosity helps to make GM River Days possible," said Matt Cullen, chairman of the Detroit RiverFront Conservancy Board of Directors. "We invite everyone to come to the event and support the Conservancy while enjoying all aspects of the riverfront throughout the weekend."
Headlining National Music Acts
Sounds will rise above the international riverfront with headlining acts on the DTE Energy National Stage. This year's festival boasts a jam-packed lineup, including Paul Rodgers, founding member of Bad Company on Friday night and the seven-time Grammy Award winner and Motown legend Gladys Knight on Saturday evening, in addition to R&B singer-songwriter Chanté Moore. Sunday's main stage will bring rhythm and blues to the waterfront with celebrated R&B performers including Bell Biv Devoe, a trio of members from the 1980s act New Edition, Jagged Edge, Grammy-nominated R&B group and Dave Hollister, R&B vocalist and previous member of Blackstreet. VIP tickets will once again be available to purchase for premier seating during the headlining concerts. Tickets cost $35 and include entrance to the festival. Tickets can be purchased online through RiverDays.com. A full music lineup of more than 40 music acts across 4 different stages will be announced in the coming weeks.
New Programming and "River Nights" Fundraiser
This year's GM River Days celebration will include an exciting new airshow over the Detroit River on Saturday and Sunday, June 20 and 21 starting at 1:00 p.m. each day. The show is being staged by the Tuskegee Airmen National Historical Museum. Scheduled to appear are two models of aircraft flown by the Tuskegee Airmen in World War II, a demonstration of precision formation flying by the museum's own three-aircraft team, and aerobatics by world-class airshow performers. This will be the first time that Detroit has seen aerobatic demonstrations over the river in more than five years and this time it's locally-organized and features many performers from Metro Detroit. The airshow will also feature emcees at all festival stages and music.
Daredevil festivalgoers will also get a bird's eye view of the Detroit River from the Milliken State Park with rides on two new Zip Lines, one of which is provided by Oakland County Parks. Thrill seekers will get to fly 300-feet across the sky with the first-ever zip line in the state park. This new festival feature is the longest, fastest mobile zip line available and allows two people to zip simultaneously on two lines 34 feet in the air. Tickets will cost $15 for one ride or two for $25.
Also added to the festival is a new fundraiser, River Nights, which will provide a special preview of the festival, on Thursday, June 18th from 6-10 p.m. Attendees will get to enjoy a concert by The Spinners, the legendary R&B recording artists originating from Detroit. Guests of all ages can take advantage of many of the festival's great features prior to the public opening, including free zip line passes from 6-8 p.m., free Diamond Jack river tours, live sand sculpting, carnival rides and complimentary food and beverages provided by Soaring Eagle Casino & Resort, Coach Insignia, Riverwalk Cafe, Famous Dave's BBQ and more. Tickets cost $50 and all proceeds will benefit the Detroit RiverFront Conservancy. Ticket sales open on Friday, May 15th and can be purchased online at RiverDays.com or by calling (313) 566-8200.
Return of Festival Favorites
The Soaring Eagle Cuisine Machine will once again be the star of the Pepsi Taste of Detroit Food Court. In addition, more than a dozen eateries will present a wide array of dining options throughout the weekend, including Atwater in the Park, Bert's Market Place, Coach Insignia, Famous Dave's BBQ, Detroit Marshmallow Company, Eskimo Jack, Detroit Fish and Shrimp, RiverWalk Café, Baja Smoothies and more.
"Each year Soaring Eagle Casino & Resort looks forward to showcasing our outstanding cuisine and world-class resort during River Days," said Raul Venegas, director of marketing & entertainment, Soaring Eagle Casino & Resort. "This festival gives us the unique opportunity to interact with people across the region while supporting a great organization."
Located on Rivard Plaza, The Flagstar Bank Kids Zone will keep kids laughing and playing all weekend long. Parents just need to pick up a free sticker from the Flagstar Bank booth at the festival. The Kids Zone produced by The Parade Company will feature story time, magic and puppet shows, as well as face and hand painting with the Detroit Institute of Arts and recyclable crafts with Arts & Scraps. Children and families will experience an entertaining lineup on the Meijer Kids Stage. Rivard Plaza will also be the site of a 50-ton sand sculpture presented by Quicken Loans and designed by Team Sandtastic.
As always, festivalgoers can take advantage of great fun on the water with Diamond Jack River Tours, as well as tours of the Appledore IV Tall Ship presented by Detroit Marriott at the Renaissance Center docked at the Detroit/Wayne County Port Authority Dock. In addition, festival favorite Typhoon Tommy and his world-class jet ski team will use the Detroit River as their stage to perform big air jumps, flips and underwater dives for the crowds along the riverfront. The United States Coast Guard Auxiliary will showcase rescue demonstrations and the opportunity to board and tour a Coast Guard cutter throughout the weekend.
The Michigan Department of Natural Resources (DNR) will provide a variety of hands-on activities for children and adults throughout William G. Milliken State Park & Harbor during the festival. Guests can stroll along the RiverWalk and talk with wildlife and fish experts, foresters and conservation officers. Booths will be across the park to learn about Michigan's birds of prey and reptiles. Festivalgoers will also have a chance to try their hand at archery, scale a climbing wall and other outdoor skill challenges.
The 2015 GM River Days presented by Soaring Eagle Casino & Resort kicks off Friday, June 19 at 11 a.m. and spans from the William G. Milliken State Park and Harbor to the Detroit/Wayne County Port Authority Terminal & Dock, just west of the Renaissance Center.
Festival Hours
11 a.m. – 11 p.m. on Friday and Saturday
11 a.m. – 10 p.m. on Sunday
The Conservancy will charge a $3 admission fee (and $5 after 5 p.m.) to help underwrite programming and operational costs for the festival.
Admission to the festival is free before 5 p.m. on Friday, June 19.
Click HERE for a full schedule of events and activities